Welcome to Town Hall!
In case you didn't know, Town Hall is a community event for gathering the best member ideas and feedback. For the Work Nicer team, it is another avenue to say yes to new ideas and provide updates on what's been added to your membership and the value of your Work Nicer toolbox.
During this Town Hall, we celebrated the community in its successes over the last eight months. It's clear that Work Nicer and its members are tenacious, taking each change and embracing what's next together. This community would not exist without members and their persistence to thrive during challenging times. Read on to learn what Work Nicer is doing to support members as they grow, plus how Work Nicer is adapting to embrace what's next in coworking and community.
Coincidentally, November 5th marks the fifth anniversary of incorporating Work Nicer as a company. Although we officially celebrate Work Nicer's  'birthday' in December, Town Hall allowed us to reflect on the occasion, how we began, and what we've overcome as a business and a community.
Five years ago, founder, Alex Putici, started Work Nicer with ten friends in order to challenge the lonely, work from home norms of being an entrepreneur, remote worker, or small business owner.
This community continues to come together; even when physically distanced. Town Hall is the perfect example of the strength of the community. With over 70+ members tuning in together, we all continue to invest in the relationships and places that we work.  
Every business has faced challenges at the same time, but Work Nicer owes credit to all of you for supporting Work Nicer through tough times and each other as well! We hope that every business owner and employee find a community to lean on during struggles and celebrate during wins. We're excited to continue to welcome members home to the Work Nicer Community through the initiatives discussed later in Town Hall.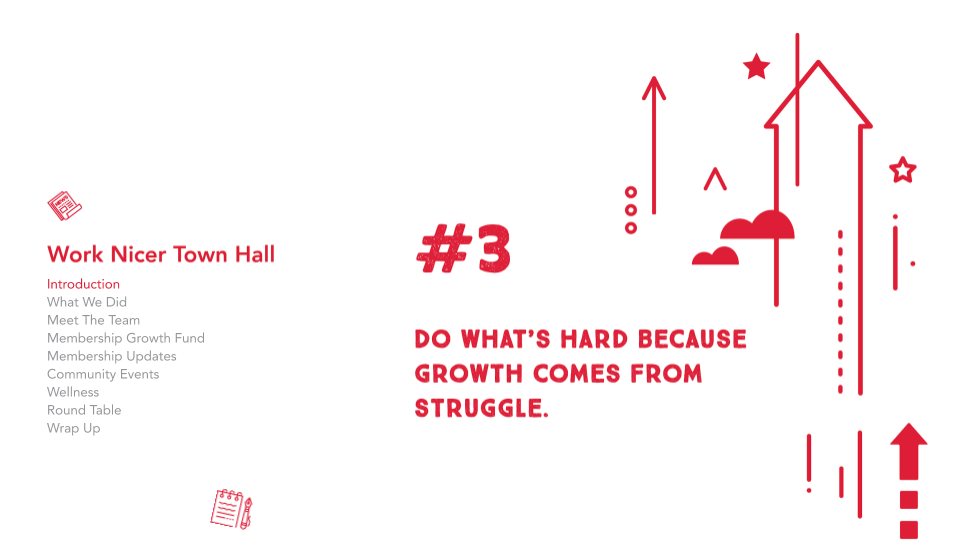 Work Nicer Guiding Principle #3: Do what's hard because growth comes from struggle.
This guiding principle not only applies to the Work Nicer team, but every single person and business has gone through stuff. Growth comes from struggle, so if we commit to working through the challenge, we can emerge better and stronger than before (as cheesy as it sounds). To start this town hall, Work Nicer wanted to acknowledge that we've all seen some struggle. With that said, each member of the Work Team and the Work Nicer community deserves a whole lot of kudos for showing up to do the work. 
What We Did
The Last Town Hall back in May 2020, was a dive deep into outpost updates like current COVID-19 outpost guidelines provided by AHS, cups, soundproofing phone booths, and Annex Root Beer on tap as a reminder of requests fulfilled for Work Nicer members. Additionally, almost 100 virtual events gathered the community's resources for support on up-to-date financial aid resources, managing stress, free information on legal questions,  best practices from members working at home with kids, and places to just talk with one another. 
In reflecting on what's next for Work Nicer, its community, and the physical spaces that we enjoy, Work Nicer now is looking forward with a focus on growing together with its members. But first, here's what the Work Nicer team noted as great achievements since the last Town Hall: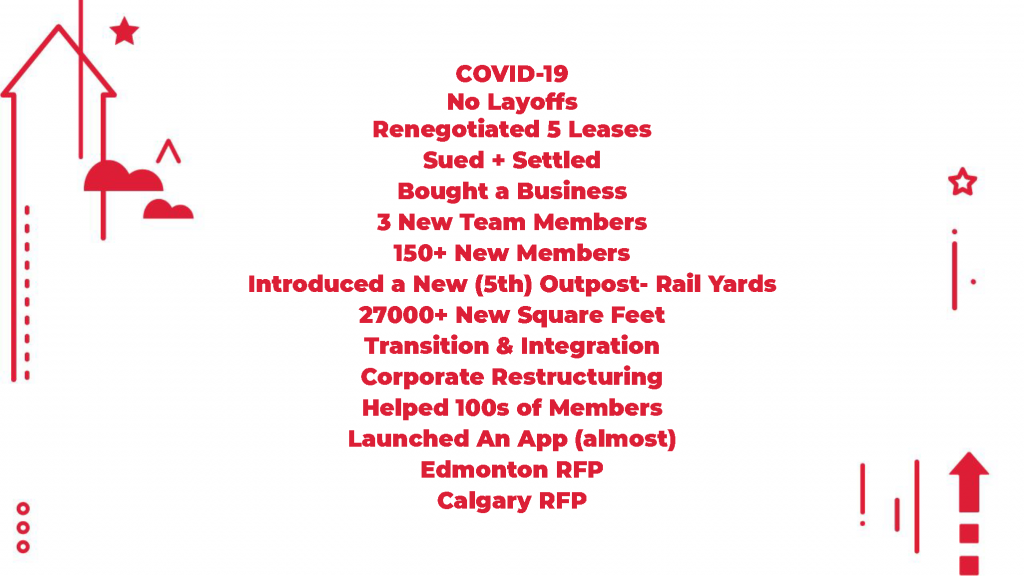 All of the progress made since May's Town Hall took place within the restrictions and realities presented by the COVID-19 Pandemic. Most importantly, this community has had 0 transmissions since we continue to follow the directions of Alberta Health Services. Given recent announcements, members should stay tuned for another update on guidelines and how they apply within Work Nicer outposts. With the support of Government programs and subsidies, the entire Work Nicer team continued working and serving the community. We maintain good relationships with all landlords after negotiating all five outpost leases; Work Nicer is here for the long-term. Even better, the Work Nicer team has grown by three members since bringing The Commons Cowork into the Work Nicer family (introductions later in this post). Work Nicer also provided a home for local coworking spaces that unfortunately had to close during this difficult time. The community welcomed members of HustleCo. to Work Nicer back in May as well, to enjoy and get connected through many new initiatives like Business Book Club, Weekly Yoga, and more!
What We Did (Continued)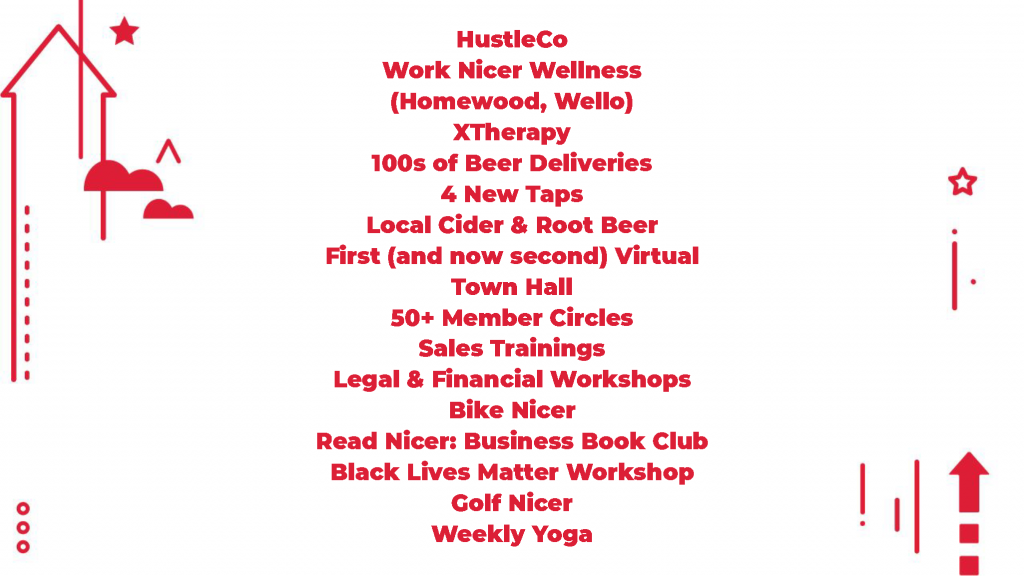 Back in September, Work Nicer officially announced the fifth Work Nicer outpost, Rail Yards. You can read more about it here. 
Throughout this integration, Work Nicer admits and accepts that we are doing something we've never done. Despite unknown circumstances, it's promising to see so many new faces at Town Hall, a Work Nicer tradition offering members another opportunity to build their own spaces and community.
Meet the Team 
Do you know those team members mentioned above? In welcoming The Commons Cowork into the Work Nicer community, the Work Nicer team grew by three team members. Let's introduce a few of them! 

Anna Perkins, The Zookeeper 
Hi! My name is Anna, and I am thrilled to have joined the Work Nicer team since Work Nicer and The Commons Cowork have come together.
I was on The Commons Team for just shy of 6 years, where I wore many different hats. At Work Nicer, I'm primarily focusing on developing and maintaining the HR department, supporting administrative and finance-related tasks too.
You can primarily find me at Rail Yards, but I'm starting to move out of my comfort zone to other outposts here and there too. If you have any questions, I'm looking forward to chatting with you!
Shelby Boehm, Hype Master Extraordinaire
Well, hello there! My name is Shelby!
I am thrilled to be a new team member of Work Nicer, as the very colourful and sparkly 'Hype Master Extraordinaire!' My passion lies in building meaningful, extraordinary relationships and connecting amazing people with like-minded amazing people. I've always been in a career where I'm helping people or animals, so it's clear that I belong in a world where I am giving and getting involved in a compassionate way.
You can expect to see me hyping up events, people, dogs, beer! I am so happy to be involved in such an incredible community, and I cannot wait for all the beautiful things that we will do together.
Jess Steinbach, Enablement Ace
Hey, I'm Jess! Although there are many amazing things to say about this community. One thing I've been incredibly humbled by is members we've known for years at Rail Yards asking us how joining Work Nicer is going for us as team members. First of all, it's fantastic that everyone cares so much; and second, Yes, we're terrific! Although there is a blend of nostalgia and excitement, collectively, we can look forward to there are many exciting opportunities! Finally, my role on the Work Nicer team is Enablement Ace; I look for ways to make systems and processes smoother and make the lives of the team and members easier.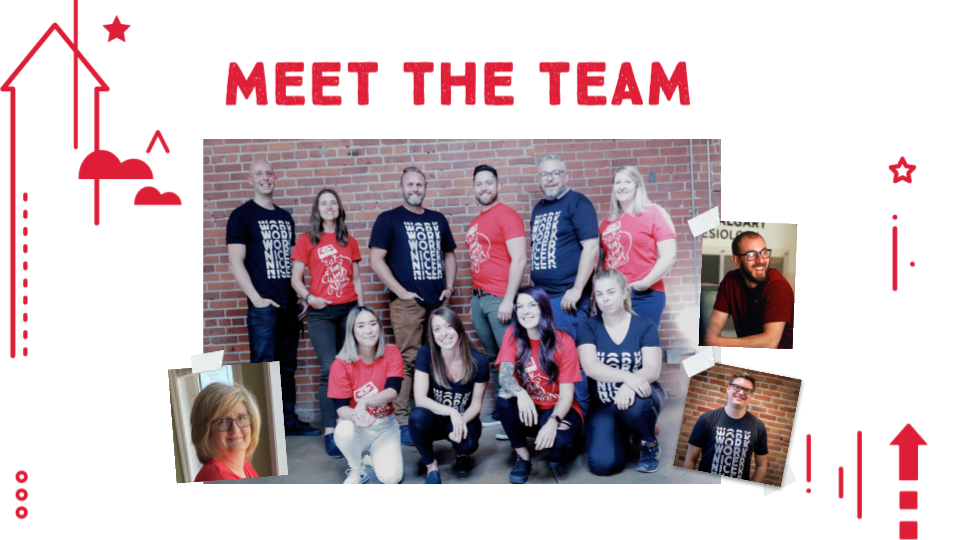 The Work Nicer team is growing to support the growth of the Work Nicer community. The team is here for you, so we ask the community to lean into all Work Nicer offers as we grow the membership toolbox. 
Recently, two team members celebrated their first and second anniversaries as team members of Work Nicer. Sean Parker and Jenn Lippa have brought so much to the community, so this Town Hall was an opportunity to recognize and appreciate the contributions that have been made over time to make an impact in hundreds of members' lives and businesses.
The Work Nicer Membership Growth Fund
If you haven't heard about the Membership Growth Fund yet, it's not too late to apply! The only way Work Nicer has been able to remain in business throughout the COVID-19 pandemic is due to the support of members who continued to show up in various ways for the community. 
Through the support of this community, Work Nicer has grown, despite some seemingly insurmountable obstacles. The team is hopeful and driven by excitement, with every roadblock passed and goal accomplished. Knowing this, Work Nicer owed it to the community to support members in moving their plans forward. With that said, it's time to grow.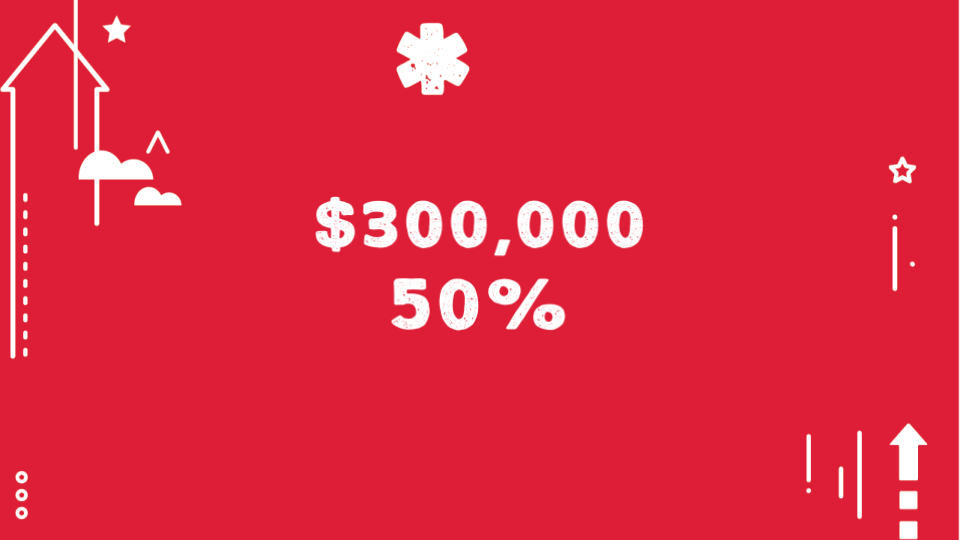 Since introducing the Membership Growth Fund, Work Nicer has offered relief to 30 members and counting. These accepted applications represent the confidence to begin self-employment, the stability to re-grow a book of business, and the support to grow a team on a bootstrapping 'side project.' Work Nicer hopes that more members and future members will apply to start their goals for growth today.
You may have already heard about the Membership Growth Fund, but if this is the first time, here are some details on the support the Work Nicer community can offer you.
What is the Membership Growth Fund? 
Work Nicer has committed a $300,000 membership credit program for existing and new members looking to grow, innovate, or seize opportunities for their business. Applications are opened to new and existing Work Nicer members, whether you're a solo entrepreneur, freelancer, team of any size, or a remote worker. 
The applications for the Membership Growth Fund close on November 20. Anyone can apply, whether you're a member, run a small team, work remotely, or work on your own from home! The Membership Growth Fund is a first-time-ever offer from Work Nicer and is only possible through the support of its existing community members. In tough times, the support of people around you makes all the difference.

Membership Updates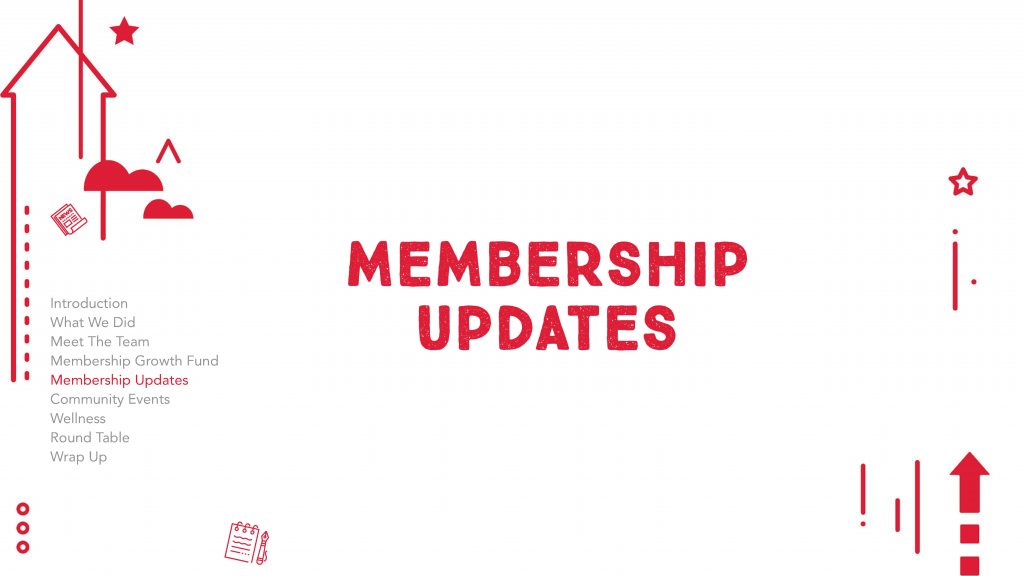 With two memberships groups merging together, one of the biggest questions posed to the Work Nicer team by members is what does my membership look like now? 
To address that question, the team spoke to some of the newest members of the Work Nicer who were welcomed into the community at Work Nicer Rail Yards, formerly The Commons Cowork.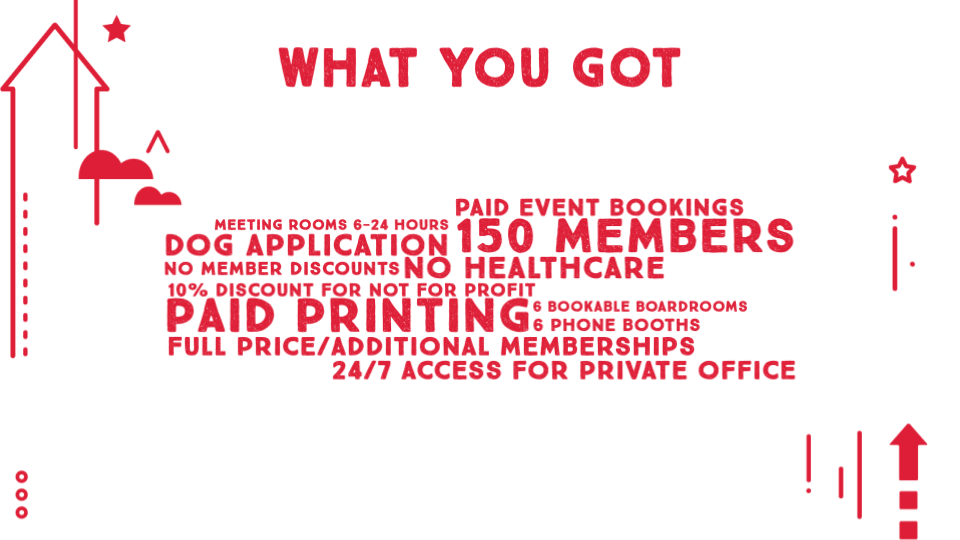 Coworking does not look the same everywhere, but as Work Nicer's guiding principles state, our goal is to create preposterous value for community members. When welcomed into the Work Nicer family, members receive benefits like access to a large community, everyday perks like local coffee on-demand, printing, exclusive partnerships, bookable meeting, and workshop spaces. This community is 750+ members strong, and Work Nicer encourages everyone to lean into the resources of each community member.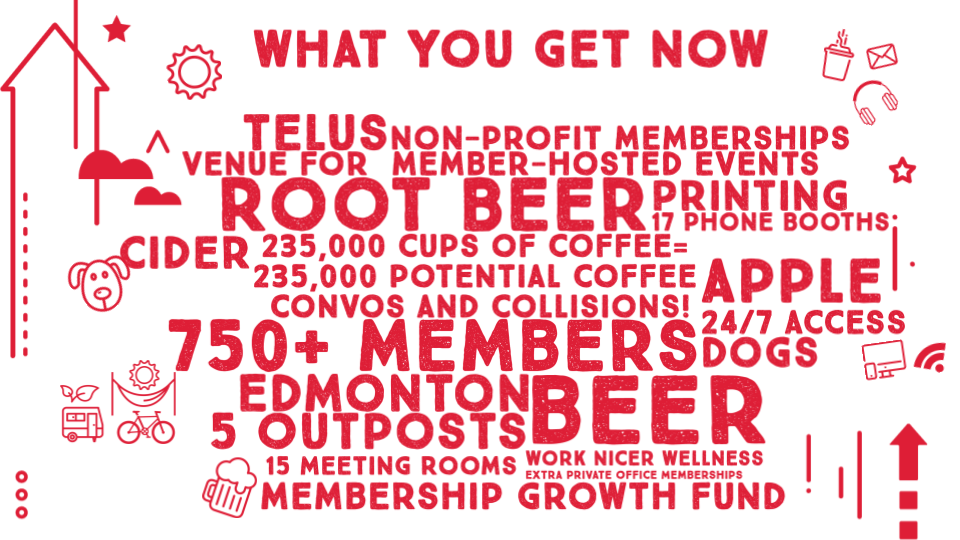 Overall, the role of the Work Nicer team is to continue to grow the toolbox of membership to provide opportunity, knowledge, and connection for members of the community. With that, Alex introduced Power Ups, coming soon to the Work Nicer offering. 
What are Power-Ups?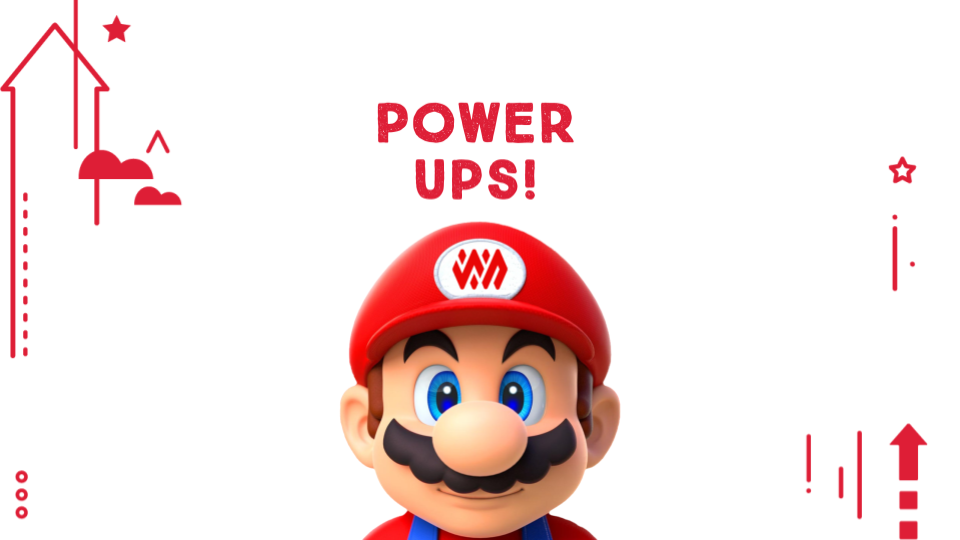 Just like 'levelling up,' Work Nicer Power-Ups will allow the community to access premium benefits through their Work Nicer memberships. Power-ups will be coming soon as members and partners offer their support to this community. To easily access and use these power-ups via a Work Nicer Online Portal. Power-ups will be accessible via an online portal to spend inclusive power-up credits! 
Although the details of power-ups are still to come, Work Nicer just couldn't wait to share this innovation powered by Work Nicer members and partners. Stay tuned for more information on power-ups. 
Membership Alignment and Pricing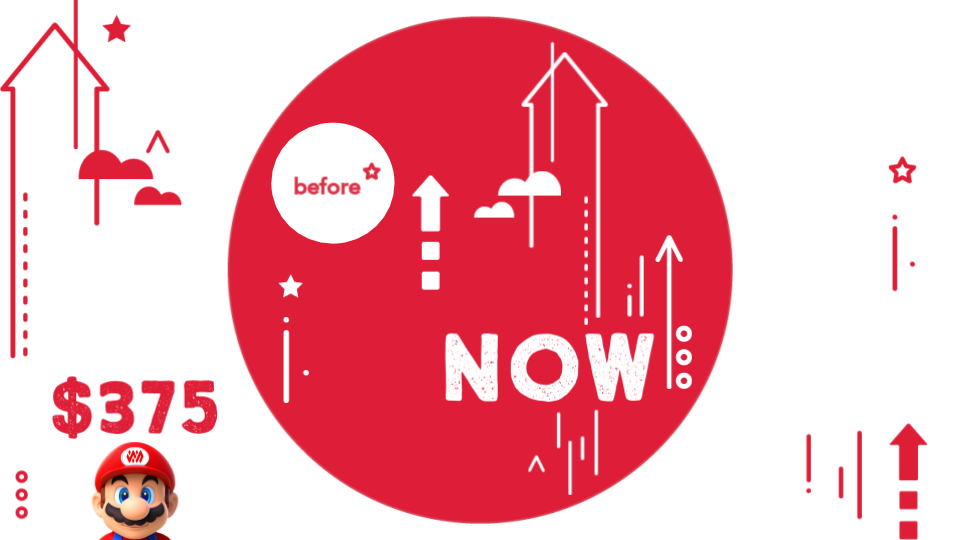 Over a year ago, Work Nicer announced one membership to access every benefit within the community for $400/mo. Since COVID-19, bringing two coworking communities together, supporting members through growth,  and navigating Work Nicer's way forward for now and into the future, Work Nicer is so excited to align our pricing once again. That's right, Work Nicer membership and all its benefits is now available at 375/mo starting January 2021. 
What does this mean for current members? For members already paying $400/mo, your membership will be reduced right away. All other price alignments will be effective for January 2021.  All members will receive all the details in their inbox! To support this alignment,  the Membership Growth Fund will remain available for all members that need support to lean into the community. 
What's Next?: Work Nicer App Coming Soon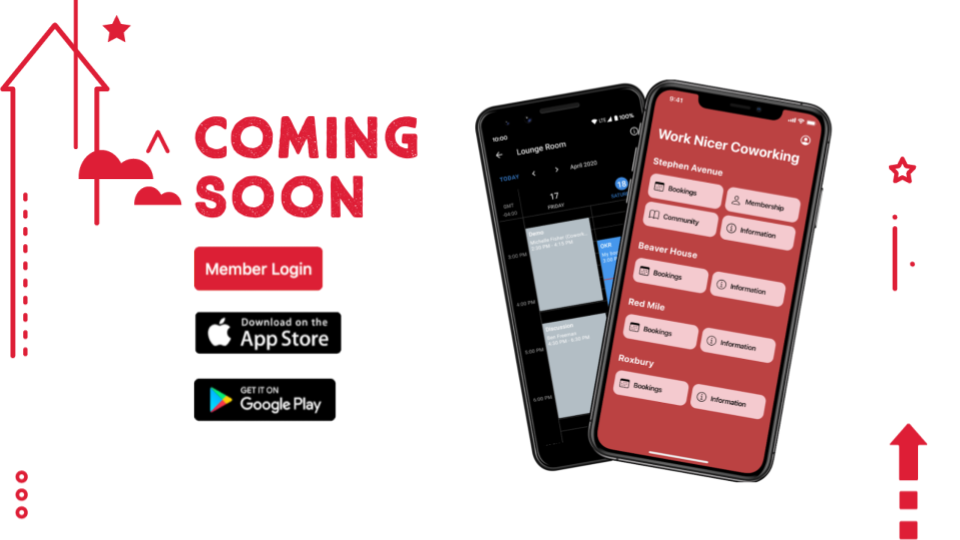 From booking boardrooms to accessing the perks and connections of your community, the forthcoming Work Nicer app will provide one spot to access all things Work Nicer. 
Community Events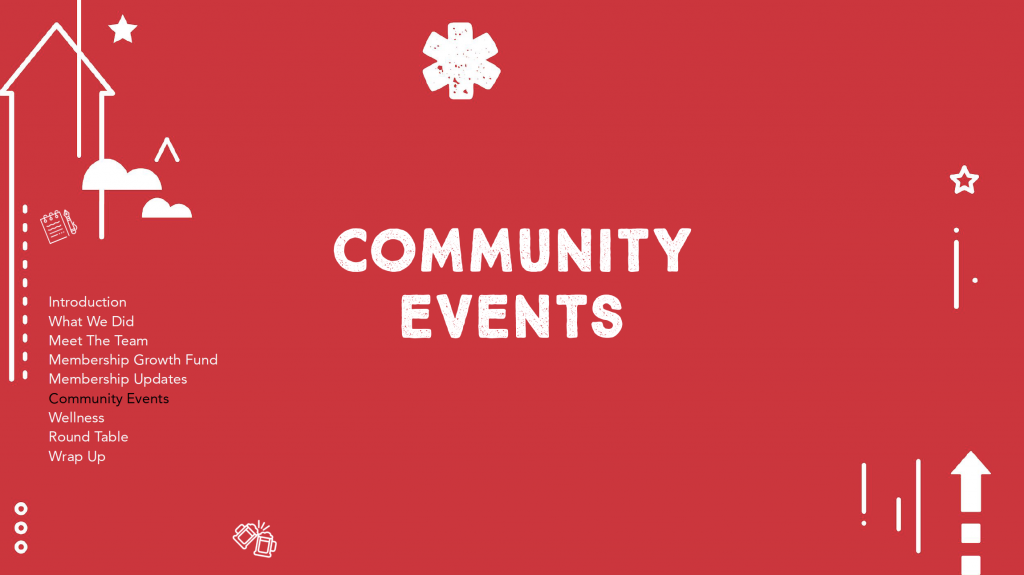 Like the Work Nicer team and our offerings have changed, the community has taken on different forms as well.  Starting back in March of 2020, the community moved almost entirely online. Despite the distance, the community continued to stay together virtually, forging new relationships and undiscovered business opportunities. Member Circles weekly offered a platform for members to join together and provide their expertise, provide support when sharing each other's challenges, and take a break from the loneliness of working from home. Member Circles were tearful, exciting, and motivating, and this community proved that "No One Succeeds Alone."
In addition to virtual events, the community began to come together physically as well through events that members stepped up to form and gather. Since June, Read Nicer, a Business Book Club launched in collaboration with the Calgary Business Success Network of over 1300 members. Although Drink Nicer looks a little different, distanced gathering still allowed for impromptu game nights with Nintendo and Pumpkin Carving competitions still thrive in the Work Nicer outpost. The outdoors also brought members together through Bike Nicer and Golf Nicer. The spirit of community and the opportunity to come together are driven and inspired by members. To carry that spirit forward, Work Nicer asks its members to continue to bring ideas. Thank you to members for your creativity and enthusiasm. 
Announcing the Work Nicer Virtual Community Calendar!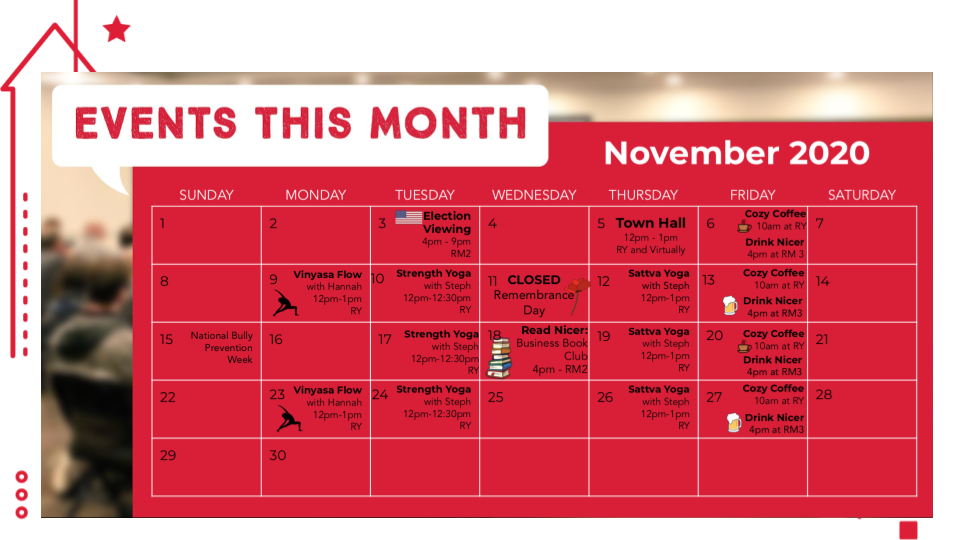 With so many ideas and events, there is a lot of information on when and where to attend! Each month, every member will receive an updated calendar with event details to their email and all outposts. 
In addition to the Work Nicer community Calendar, members can share their events on the Work Nicer website! To include all of your events in the newsletter, follow these steps to put your event into this calendar. 
Select "Submit an Event." 

Complete the event submission form with your event description, photo, link, etc. 

Select 'submit for review.' 
That's it! Once your event is approved, you'll receive a notification that it is live on the Work Nicer website. Finally, members are encouraged to use the #events channel on Slack to share your event!
Live and Virtual Yoga for Work Nicer Members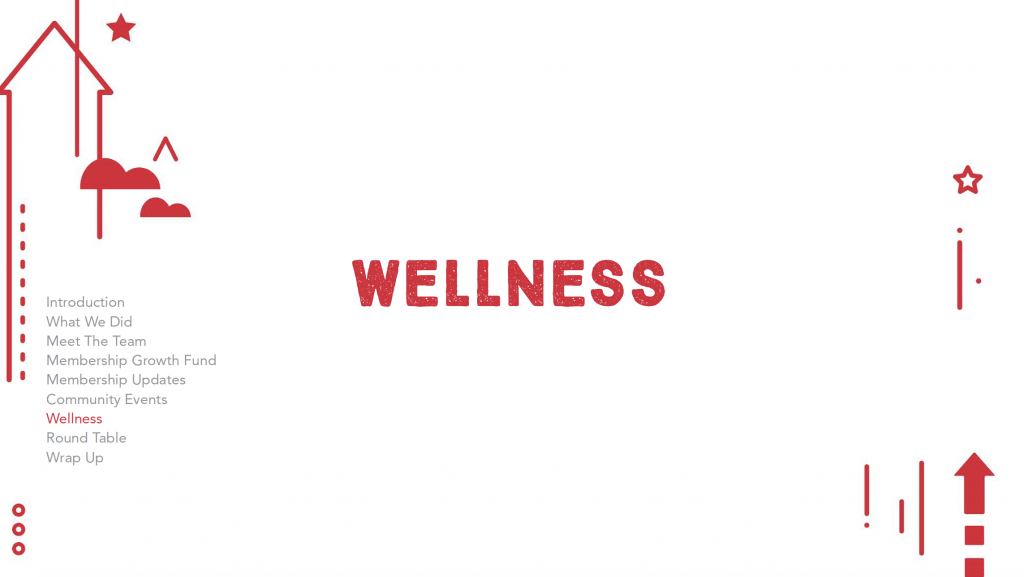 The final update of this Town Hall shared the newest addition to the Work Nicer wellness offering. Initiated by newly welcomed Rail Yards members, you can join Yoga in person or virtually three times a week at Work Nicer. All members can join the #wellness channel on slack for up to date details on daily practice and playlists.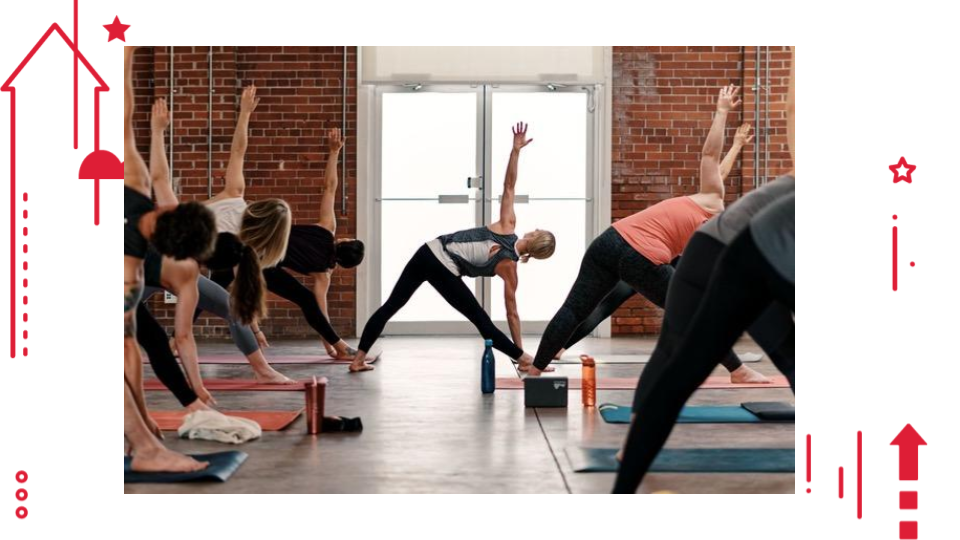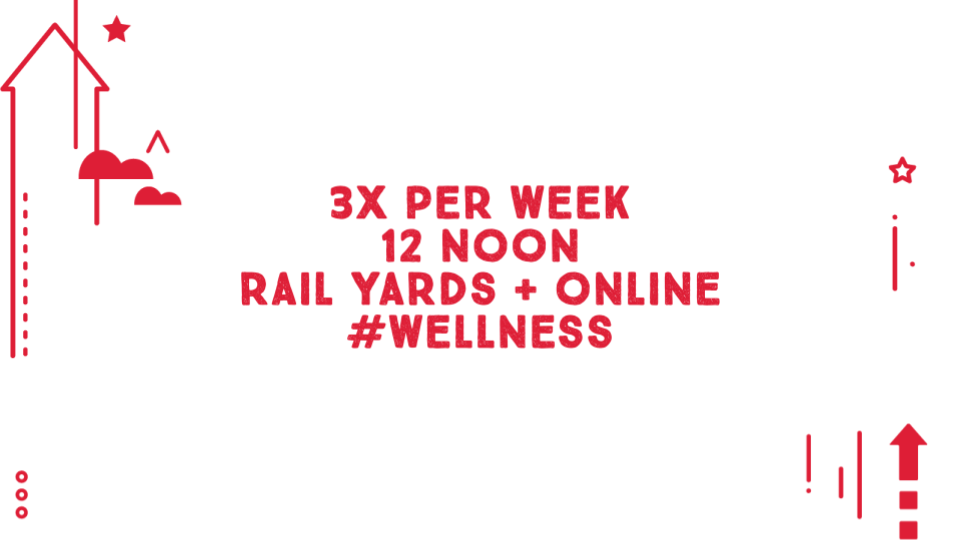 Member Round Table 
One of the most exciting components of Town Hall is the Round table. After sharing the progress the team has made, members can bring their ideas forward, ask questions and give feedback to improve the overall experience at Work Nicer. Attending Town Hall live gives members the exclusive opportunity to participate in this conversation and inspire what's next for Work Nicer. 
Here are the questions brought forward during this Town Hall. Thank you to all the members who brought along their questions and ideas!

Did we hear something about a group health care plan?
[50:50]
Although Work Nicer does not provide access to health care benefits or insurance right now, Work Nicer is partnered with Wello and Homewood Health to offer members virtual healthcare and employee assistance programming!

Wello is a Calgary founded company offering virtual Healthcare. Essentially, a walk-in clinic in your pocket. Virtual healthcare connects you with a medical professional in 20 minutes or less via phone, tablet, or computer.

How can you use Wello?

Diagnostic and prescriptions

Answers to common health questions including COVID-19

Chronic disease management

Specialist referrals

Travel vaccines and advice

Homewood Health
Homewood Health offers short-term counselling for relationships, childcare and parenting, Eldercare, family care, grief and loss, and more. Your Work Nicer membership provides up to six sessions for you and your family through Homewood Health. After these sessions, Homewood Health experts can refer you to long-term counselling services if you need on-going support too. Homewood Health also offers online resources to find local childcare and family support.

How are we going to have access to Power Ups?
[52:00]
The how-to on access to power-ups is still to be determined. As we line up our initial partners and offerings with the power-up program, we will plan the best way to deliver it to Work Nicer members, so it is easily accessible and useful to every member. 
How does it work to have a Work Nicer member onsite at each location during the day? [52:31] 
Work Nicer has always been about enabling members to feel ownership in their community. Although there will not always be a Work Nicer team member physically at an outpost at all times, we are always available to contact and address issues as they come up! If you notice something out of the ordinary or broken at an outpost, message #help-desk on Slack so the Work Nicer team can address and solve issues as soon as possible. 

If you do not see the team around at your outpost consistently, please let Work Nicer know so we can take a look at how we build our weekly schedules. 
In Membership Updates, you mentioned an alignment of membership pricing. When will that come into effect? [53:38]
Starting in January 2021, Work Nicer will be aligning various membership setups inherited from coming together with The Commons Cowork to one, all-inclusive base membership for 375/mo. All new memberships as of the Town Hall announcement, will receive membership at this adjustment price as well. 

All members will continue to receive the same benefits and more to what they are receiving now, but the alignment will depend on each member's membership. If this alignment saves you money, then Work Nicer will be adjusting your invoice right away. All other invoice updates will take effect for January 2021 memberships. Keep an eye on your inbox for a specific update about what membership looks like in the new year. 

If you have any concerns about how this alignment impacts you, remember that the Membership Growth Fund is available to remain connected to your community. 
Does the upcoming app provide a way for members to promote any of their own offerings to other Work Nicer members outside of the usual Slack channels? [56:16]
Yes! The app will give Work Nicer new ways to promote benefits and services provided to Work Nicer members, so the team will explore how members can use these tools best.

In the meantime, members can download the app to set up their own profile and write in any offerings they'd like to share. As we all discover more about the Work Nicer app, we will share the best ways to give back to your fellow members. 
Does Work Nicer have a specific plan to address COVID in the workspace? [58:46]
Work Nicer has taken proactive steps to meet and exceed guidelines by the Government of Alberta and recommendations by Alberta Health Services. The actions taken by Work Nicer at each outpost are following the Workplace Guidance for Business Owners and sector-specific guidance on Office Building documents. The most recent COVID-19 related updates can be found here. With daily updates from the Government of Alberta, the Work Nicer team will continue to update you about the most recent suggestions and regulations. 

An important update to note involves face coverings that recently became a voluntary measure in all indoor work settings, except when appropriately distanced from others.  The Work Nicer team will be adopting these voluntary measures and encourages members to consider these measures as well. 
How can members access the use of event rooms?  [1:05:45]
Work Nicer has always said that we are not an event or room rental company, but any of the Work Nicer outposts are available for members to host their own events or workshops to expand their own offerings. With the addition of Rail Yards and the Hemingway Room, the use of event spaces by members remains the same. 

For larger event coordination, The Commons Collective can provide event support for your professional or private events. Work Nicer will connect members with The Commons Collective event coordination company to plan your next event. 
Construction at Rail Yards: what is it? When will it end? [1:07:35]
The landlord at Ramsay Design Centre is completing a few improvements to the building. Work Nicer will inquire about the timeline for these projects, but this construction should be conducted after hours and on weekends only. If you do hear construction during the day, please let us know on slack or by sending an email [email protected]. 

There are a few projects that Work Nicer hopes to complete at Rail Yards, but Work Nicer will share any construction timelines or planned disruptions before kicking off any building improvements. 
Introducing the Work Nicer Member Suggestion Box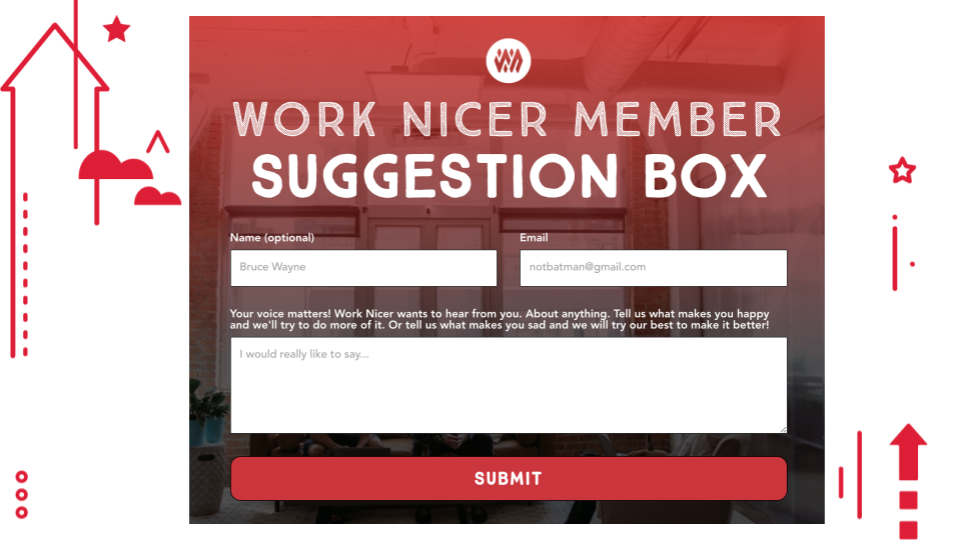 In closing, to encourage the sharing of regular feedback from members and continually improve the Work Nicer experience, the Work Nicer suggestion box is now open! You can access the suggestion box anytime inspiration strikes to help the Work Nicer team serve you better.
Thank you to all members who attended Town Hall, lean into the community, and offer their feedback and suggestion for what's next in the community. 
Until next time!