Welcome to Town Hall!
 In case you didn't know, Town Hall is a community event for gathering the best member ideas and feedback. For the Work Nicer team, it is another avenue to say yes to new ideas and provide updates on what's been added to your membership and the value of your Work Nicer toolbox. 
The first-ever Town Hall conducted completely virtually. In the past, streaming a live presentation of Town Hall, proved to have some technical issues, but hopefully, everyone has gotten enough practice over the past 10 weeks. The Town Hall virtual presentation was recorded and posted below to watch! 
Alex, Work Nicer founder, started by saying Thank You. Thank you to everyone who claimed their seat at Town Hall, in real-time, and everyone who showed at the outposts to watch together.
At the time Town Hall was rescheduled, the reopening of Alberta and especially Calgary was unknown. As such, the team focused on presenting Town Hall virtually. Now with reopening measures in place, members also watched the live presentation at Beaver House, Stephen Ave, Roxbury, and Red Mile. It's encouraging to see so many faces at the outposts already. Thank you for your trust and your cooperation in creating a welcoming experience at each outpost. Work Nicer needs to work together to practice these new measures, and a member of the Work Nicer team will be present at the outposts, full-time.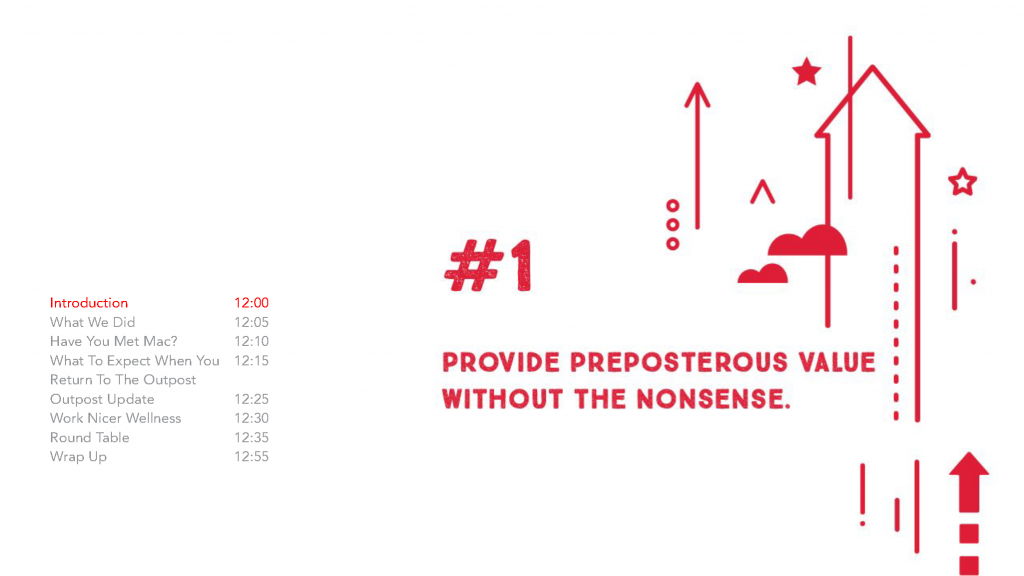 Work Nicer Guiding Principle #1: Provide preposterous value without the nonsense
Through member circle, BS with Bob, and Drink Nicer events, in visiting your homes, in mental health sessions, and financial, legal, and marketing Q&As, it's become increasingly evident that the community has always needed each other. Work Nicer has always believed that No One Succeeds Alone. We have always relied on one another; our complementary skills, connections, hugs, and high-fives (even if some of them have been virtual). No matter the venue or outpost, Work Nicer will continue to be the catalyst for these relationships. That is the value the community offers, and the team strives to deliver this value hassle-free and without hesitation.
Work Nicer recognizes that sometimes we often come short in delivering without nonsense. In responding to the pandemic regulations and gathering up-to-date information, we were slow to communicate the plan forward for membership and how the team would continue to deliver value above-and-beyond the price of membership. A pandemic, physical distancing, and isolation are all new obstacles. However, the team has communicated with many members one-to-one about your concerns for your business, organizations, and membership. Please continue to reach out to Work Nicer because the challenges our businesses face may still be to come.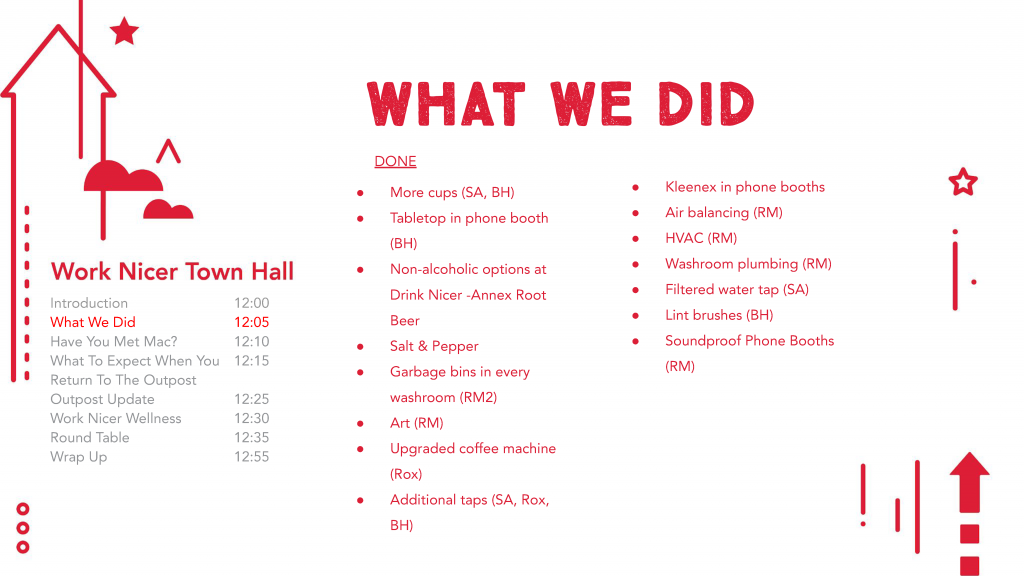 What We Did
In preparation for Town Hall, initially scheduled in March, the Work Nicer team fulfilled these common and reasonable requests from members. While a lot of the team's efforts in the past few months primarily focused on entirely new ways to add value, there was work continually being done at the outposts to improve your experience for when you return. These requests may seem minor, were discussed during the last Town Hall, meaning they are relevant to members' experience.
Notably, Annex Root Beer is now on tap at all outposts as a non-alcohol option. This change will bring an additional measure of inclusivity to weekly Drink Nicer events every Friday at 4 pm.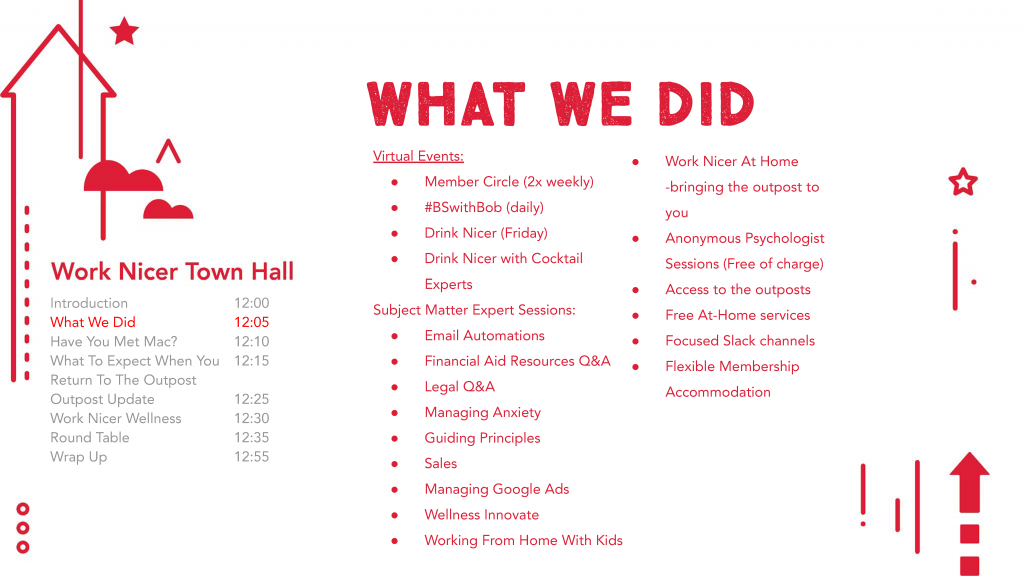 What We Did (Continued)
Your Work Nicer membership is a toolbox with many resources and benefits. As a team, we've worked on adding to that toolbox while working from home was necessary. Work Nicer has always been a "toolbox." Since March 15, where work-from-home recommendations were issued, the Work Nicer team enhanced members' ability to stay connected while working from your "home outpost."
Below outlines the measures that Work Nicer has enacted for your return to the outpost; whenever you're ready.
To create a platform for gathering, Work Nicer hosted 24 (and counting) virtual member circles for members to meet new friends, grieve the loss of what used to be "normal," and navigate a way forward together. The Work Nicer Slack channel has been more active with hyper-focused topics like #ask-and-offer. 
The Member Circle provided a springboard for additional learning and workshops like wellness and mental health conversations, parenting during a pandemic, financial information on Government-issued subsidies, Legal Q&A, marketing and SEO help, and sales and lead-generation. Work Nicer members, willing to share their expertise, led these conversations.
The Work Nicer team delivered desks and chairs to members' homes to make working from home was made comfortable. Also, we reached out to all members and welcomed conversations about creating flexible membership options for those members whose revenues dropped significantly over the past ten weeks.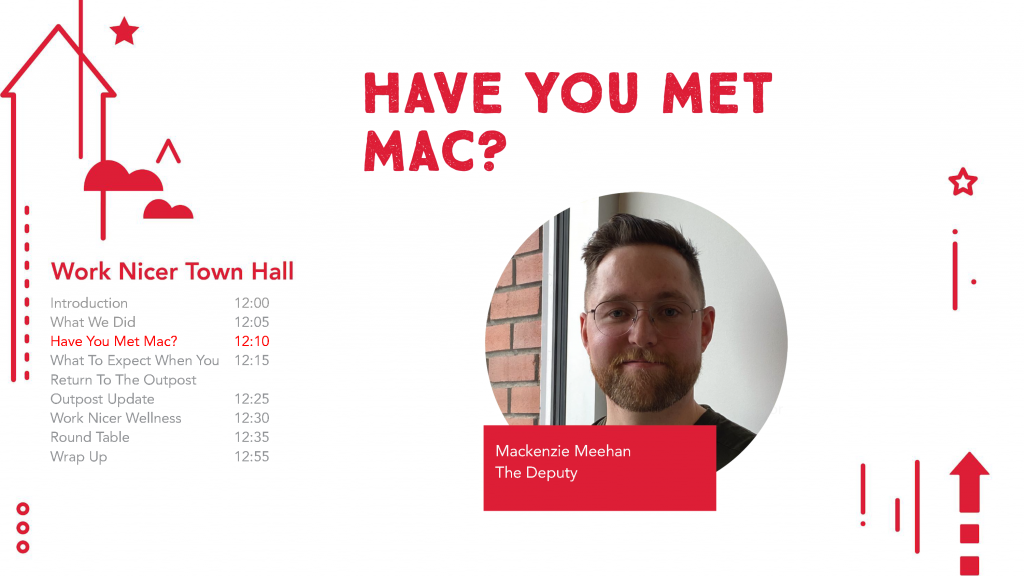 Introducing Mac Meehan
Mac Meehan is the newest addition to the Work Nicer Team. Working with the Canadian Armed Forces, Canada Border Services Agency (CBSA), and the Calgary International Airport, Mac is experienced in operations and managing Occupational Health and Safety. Starting with Work Nicer on March 9, his introduction to Work Nicer has been fast-paced, to say the least. However, Mac looks forward to meeting more community members at the outposts soon, sharing his operational knowledge to support a safe, responsible and reasonable community, and prepare the Work Nicer team with the tools to better support members day-to-day.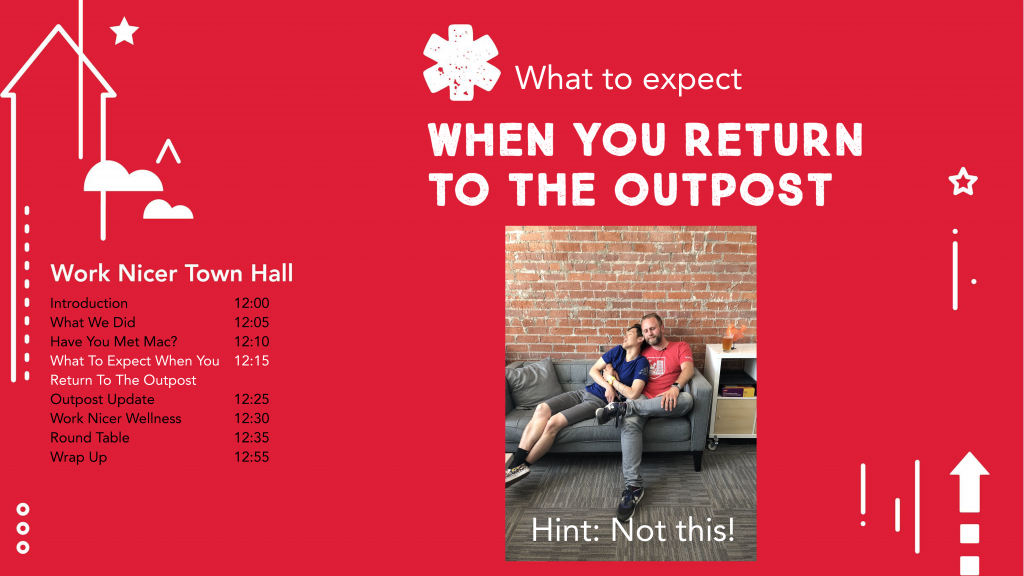 What to Expect When you Return to the Outposts
Since March 15, as you've seen above, the Work Nicer team has been busy. In addition to enhancing the online experience of Work Nicer connections, the team also made changes to the outposts to support good habits when working from the outpost. 
Starting March 15, here's how the outposts have responded to working in a Pandemic.
Sanitization supplies are placed at all outposts for member use. In addition to washing your hands frequently, please use sanitizer and wipes for your devices.
Cleaning staff will specifically address disinfecting surfaces with recommended cleaning products. Additionally, the Work Nicer team has committed to disinfecting frequent touchpoints twice a day. A deep-clean of the Calgary outposts was completed by :AM Cleaning YYC. A similar clean of Beaver House is scheduled for June 3, 2020
Signage to support distancing, discouraging communal food sharing, elevator etiquette, and handwashing measures can be seen at outposts.
Open working areas have been distanced appropriately. Additionally, each workstation has a place card to signal when a station is in use or that it's been disinfected. Members, please use this tool and sanitizing wipes to clean desks and chairs after use.
Stand-alone sanitization tables have been set up in each outpost.
After June 1, distance circles that will mark high traffic areas to minimize the likelihood of very close contact in certain areas.
Currently, the Work Nicer outposts are accessible by members only, but as of June 1, outpost doors will be open for members' clients and guests. To support Alberta Health Services in contact tracing, all members and guests must sign in upon each visit to an outpost. Once-daily, please complete this check-in questionnaire. This procedure is the best way Work Nicer can screen for COVID-19 symptoms and provide accurate informtation to Alberta Health Authorities if needed.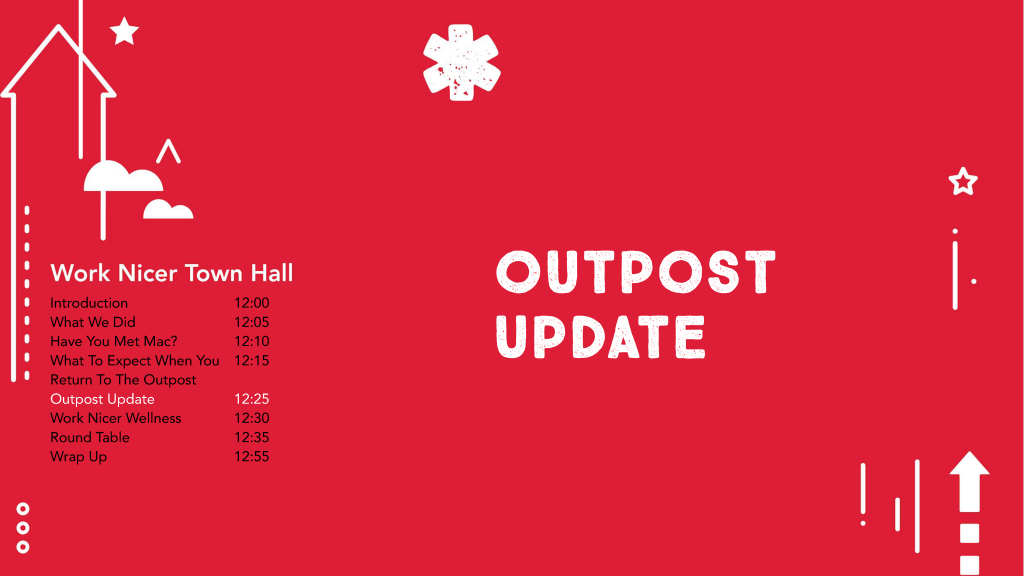 Welcoming new faces to Work Nicer; uniting two Coworking Communities
At the beginning of 2020, the Work Nicer team set some audacious goals for the growth of Work Nicer. Since the Work Nicer community thrives by the openness and attitudes of members, expanding this community means enhancing the knowledge and expertise that the community can collectively lean on. Throughout the pandemic, all of those plans have changed. However, Work Nicer has done what we can in search of opportunities that can create preposterous value for you. 
Alex shared that Work Nicer is redefining its relationship with another coworking community here in Calgary. A couple of weeks ago, HustleCo. founders reached out to me after deciding to, unfortunately, close their operations at the end of this month permanently.
At one time, one could have said Work Nicer and HustleCo. were competitors, but, in reality, we have always been collaborators in building community through coworking. Work Nicer has believed this from day one and started the Calgary Coworking Alliance as a result. Supported by the HustleCo. founders, the community members of Work Nicer and HustleCo. will unite, welcoming more talented and knowledgeable members into the Work Nicer community. Welcome to Work Nicer, HustleCo. members!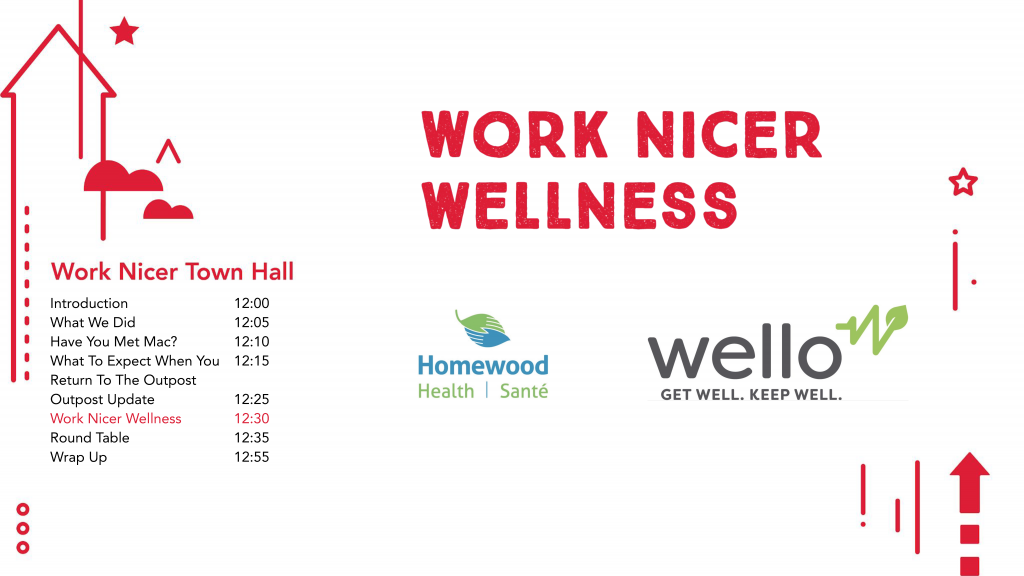 A New Addition to the Work Nicer Wellness Program
With the renewed focus on physical and mental health, Work Nicer Wellness was a program that required a refresh. Work Nicer members will receive an invite to test out the services provided by Homewood Health and Wello Virtual Healthcare at no additional cost to your membership.
Wello is a Calgary founded company offering virtual Healthcare. Essentially, a walk-in clinic in your pocket. Virtual healthcare connects you with a medical professional in 20 minutes or less via phone, tablet, or computer. Starting Monday, June 1, all Work Nicer members will receive a Wello welcome email to set up your account.
What can you use it for?
Diagnostic and prescriptions, no more Web MD scaring you!
Answers to common health questions including COVID-19 
Chronic disease management 
Specialist referrals 
Travel vaccines and advice 
And more.
Homewood Health, in combination with Wello, provides mental health and wellness services. Homewood Health connects you or a member of your family with experts in counselling for personal, family, grief, and stress anxiety starting with six sessions and bridging to ongoing support.
Wello and Homewood are private companies, hiring experienced professionals as employees. Also, Wello securely accesses your health records to make the best recommendations and diagnosis and can communicate with your family physician on any treatment options provided.
In preparation for Town Hall, Work Nicer members were challenged to "Ask Us Anything." Throughout the round table, attendees were encouraged to send their questions in real-time.
Here's what's important to the Work Nicer community
How can Work Nicer help members make connections to leads?  How can we partner with Work Nicer? [49:00]

Work Nicer is a community, not a platform to sell your product. However, direct and indirect sales opportunities have emerged by building relationships with other members. During Town Hall, Marlow Marshall of Marlow Design expressed, "Leads come through talking with members. I don't actively advertise, but lots of projects have come through Work Nicer referrals." Ultimately, you can get what you put into your relationships.
Last month, Work Nicer members hosted "Let's Talk Sales," a discussion on developing your sales and leads strategies. There are many sales experts to support your lead generation! Find them in #ask-and-offer in Slack.
Why hasn't Work Nicer announced a Virtual Membership? When can members expect this to be added to our options? [47:23]

The Work Nicer membership is a toolbox providing all-inclusive value – no matter how a member chooses to utilize it. Attempting to add any additional membership plan would create unnecessary redundancy. Membership offers value above and beyond the use of any physical outpost, and we believe the value far exceeds the cost. Numerous members get tons of value from their membership despite rarely visiting a physical outpost. The toolbox is there for members to utilize and value is rooted in how members choose to spend their time investing in the community. The Work Nicer team will continue to add more tools to the Work Nicer toolbox to continue to provide preposterous value.
What measures are being taken to improve sanitation and disinfection of common use areas (elevators, bathrooms, elevators, meeting rooms, kitchens)? Is the Alberta Trace Together app being used? 

[50:20] [53:15]

Cleaning staff at each outpost will specifically disinfect surfaces with recommended cleaning products. Also, the Work Nicer team has committed to disinfecting frequent touchpoints twice a day. Read the section above on "What to Expect when you return to the outpost" for more details! 

We will continue to work with landlords to ensure the high-traffic areas are cleaned.

The

Alberta Health Trace Together app

is an app that you are welcome to use and download to support contact tracing in Alberta. A recent update was announced to improve the effectiveness of the app, implementing with Apple's and Google's API. It is up to you to download and use this app if you choose.
Are there maximum capacities at the outposts?

[57:47]

There are currently no capacity limitations recommended by Alberta Health Services, as we are taking the precautions already put in place to maintain physical distancing.

The Work Nicer team has discussed implementing a bookable system for individual desk spaces should the outposts become too busy to accommodate everyone. This feature of knowing how "full" the Work Nicer outposts are on any given day has always been on the future roadmap of Work Nicer as the community grows but currently will not be implemented.
How can Work Nicer members help support new outpost measures? 

 

[45:56] [57:08]

As a result of the Town Hall discussion, Work Nicer will provide you with a one-page to share with your employees and clients visiting the outposts. This document will include the whats and whys of working in the outposts and supporting contact tracing, cleaning, and distancing measures.
How will you deal with visitors who don't follow the rules? What do members do? [45:56]

A Work Nicer team member will be on-site at every outpost to support the adoption of these new habits. These new practices include checking-in daily on the iPad, washing your hands frequently, using hand sanitizer and wipes before touching common-use items, putting all your dishes into the dishwasher, wiping down your working area before and after use. You can help by being patient with others while learning these habits. It is important to be respectful and honour the perspectives and feelings of others.
What is the capacity of the closed offices? 

 

[52:04]

All open areas in the outpost have been distanced for recommended physical distancing by Alberta Health Services guidelines. Currently, there is no definitive guide for distancing within workplaces, but we're asking members in private offices to work and distance your team according to what feels comfortable for you. All private office members are encouraged to continue to use open, working areas to accommodate your team. If you need any help creating distances for your office, please ask the Work Nicer Deputy, [email protected].
Are all locations still members only?

On Monday, June 1, outposts will be open on Monday-Friday, 9 am- 5 pm. Until then, members can continue to access outposts 24/7 using the Proxy ID app and building fob.
Thank you for everyone's participation, energy, questions, and concerns at another Work Nicer Town Hall. These events and your feedback are so important to the Work Nicer team and Work Nicer's efforts in growing this community. The Work Nicer team appreciates this community and hopes that members feel confident in returning to the outpost.
See you soon!